Waste Collection for Lincolnshire
TRASH COLLECTION
Republic Services  provides trash collection, yard waste collection, and recycling for the City of Lincolnshire.
Place containers at least 5 feet from any object (mailboxes, poles, under trees, 5 ft between each container, etc.)
Place containers 1 ft from the curb with the arrows facing the street and the lid closed.
Do not lean or place anything on the containers.
Yard waste should be placed in yard waste bags or your own labeled yard waste containers.  Loose limbs should be bundled in four-foot sections.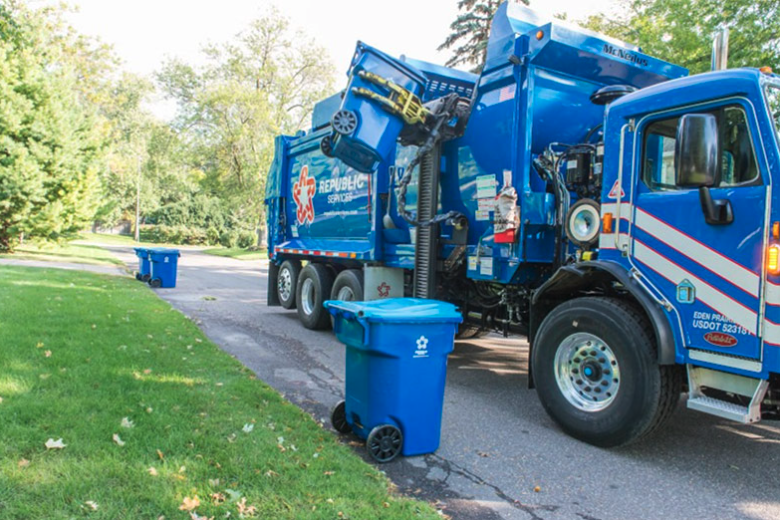 BACK DOOR PICK UP
If you require back door pick up, please mail a doctor's note stating your impaired mobility to:
Kevin Holden, Account Executive
1423 S. Jackson Street
Louisville, KY 40208
Solid Waste and Recycling will only be picked up in Republic Services containers.  No other containers will be emptied.  Bulk pick up is available to residents for free each quater.  See Bulk Pick-Up information below.
Should Federal holiday fall in a given week, collection may be moved back one day.  Please sign up for updates, service alerts and service schedules online at https://www.republicservices.com/account/signup.
BULK PICK-UP
Each residence participating in the City program with Republic Services is eligible for (1) free bulk pick-up per quarter per calendar year. A $25.00 per item fee will be charged for any additional bulk item(s).
Schedule your bulk pickup at 303-286-5400.
Please have your bulk items staged curbside by 7:00 am on the day of your pick- up.